Olaplex No. 2 Bond Perfector Size: 67.62 fl. oz. 2000ML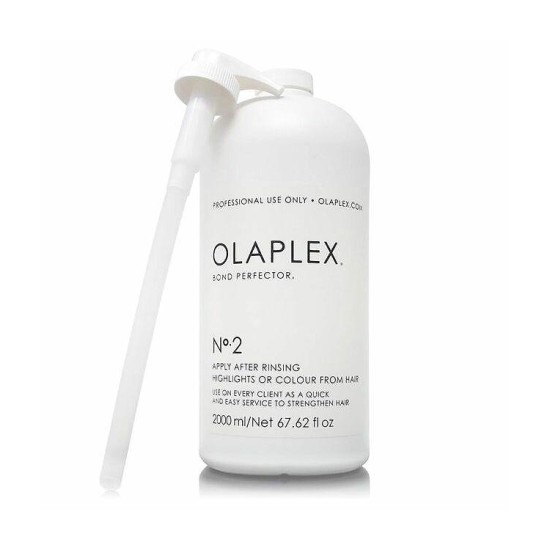 Olaplex No. 2 Bond Perfector Size: 67.62 fl. oz. 2000ML
Price in reward points: 12000
Stock:

In Stock

Reward Points:

400

Model:

SG-02-322
No. 2 Bond Perfector Treatment 2000 ml
The OLAPLEX Stand-Alone Treatment is the unparalleled salon service that repairs damaged hair and maintains strong, healthy hair. The treatment produces instant great results on all hair types including virgin and naturally curly hair. If your hair is curly, from open curl to super curly, the treatment will help to redefine your curls. After a treatment your hair will feel incredible, be frizz free, have more manageability making it easier to style, and look healthy and shiny. Ask for the OLAPLEX Stand-Alone Treatment at your salon today!

3oz and 18oz available in traveling styling kit and large salon kit.
How To Use

This is the second step of the Olaplex system, applied at the shampoo bowl
Apply after all processing has been completed and rinsed
Apply a generous amount and comb through thoroughly.
Leave on the hair for a minimum of 10-20 minutes. Keep in mind, the longer it's on, the more effective it is.
(If Applicable:Toner) You will actually use no.2 before your toner if specified not to shampoo your toner out. If you are instructed not to shampoo, then you will rinse highlight, apply No.2 for a minimum of 10-20 mins, shampoo thoroughly- or TWICE (issues with toners not taking are due to hair not being thoroughly shampooed) and then apply your toner, rinse and condition. If you are able to shampoo a toner out (as per your brand) then you will Rinse highlights, apply toner, process, rinse and apply No2., process a minimum of 10-20 mins, shampoo and condition as normal

While your client has a base color processing, liberally apply to dry or damp hair from mid-shaft to ends as an additional treatment. This is also a great way to prep hair for a double process prior to highlights.
As a cutting lotion.
Use in place of clear or conditioner in direct dyes to dilute down.
WE'RE GLAD TO HELP!
We are pleased to accommodate returns and exchanges within 30 days on all sets that have not been opened, worn, or tampered with. You may feel free to contact us to extend the days if requested before the 30 days expired.
RETURNS/EXCHANGE AND REFUND POLICY
If you are not 100% satisfied with your order/color did not match, we do offer an exchange/refund policy. If you are returning or exchanging our aftercare products, they must not be opened or must be in their original packing as must all of our products. Hair Extensions must be unused. If you have used them, we are unable to accept these back due to hygiene reasons. If you opened the bundle and had not used the hair, it is 100% non-refundable and exchangeable. All sales items are non-returnable or refundable to purchases in-store or online.
Open cases for ALL matters will be opened for 14 business days. Once confirmation is given and agreed on both parties, items must be returned within the ten business days. This will allow the extra time for you to return your item.
You may request to extend the date by sending your email request to
[email protected]
All offers on The Website are subject to stock availability, and Golden Lush Extensions reserves the right to restrict or refuse any order at any time. If any order is incorrect, it must be notified to us within 7 (seven) days after delivery. Our store accepts all return within 21 days without authorization. May the items have any sorts of the defect such as dryness/tangled/unmanageable. We accept your return within the 30 days trial from the date of your received your item. However, you must contact us to have the order authorized. In the case of incorrect orders, the products shall be returned to us for exchange, and we shall redeliver the correct order at our own cost. Golden Lush Extensions have the right to refused your return items after 30 days from the purchased date. Please contact customer service if you have any questions.
All returned goods must be in saleable condition, and the hair products must not have been used or handled, example; packets opened, brushed, worn, labels removed, etc., for health and hygiene reasons. Hair returned for exchange must not have been removed from the cardboard for hygiene purposes.
Refunds will be considered on an individual basis, and only in case the product has not been opened, used or handled, and a replacement cannot be provided (product discontinued or out of stock). Your full refund will reverse to the same tender as your purchased transactions after full inspections when items arrive at our facility. All shipping fees are non-refundable and that we strongly advised that you reviewed our terms and conditions before you complete checkout agreement. Your return mailing fee may compensate if errors are ours.
The products returned to us, become our property. We shall not be liable for any damages, costs, losses (including without limitation pure economic loss, loss of profit, loss of business, interruptions to business, depletion of goodwill or reputation, and/or loss of commission), claims or liabilities, whether direct, indirect or consequential, incurred by you due to our inability to replace the products.

We want you to be happy with your purchase and should for any reason you are not completely satisfied with your product please notify us immediately and return the product to us for exchange in its original packaging.
WHAT IS THE REFUND PERIOD?
We will provide a refund on unopened hair extensions within 1-2 business days of the date that we receive your hair extensions.
WHY ARE GOLDEN LUSH HAIR EXTENSIONS NON-RETURNABLE IF COLORED, TONED?
Coloring/toning hair extensions will decrease the lifespan and the quality of the hair. An interacting chemical will be your responsibility for the outcome. We are not alone - other hair extensions suppliers do not allow returns of items for the same reasons.
WHEN WILL THE PAYMENT SHOW ON MY STATEMENT?
Most financial institutions will take an average of 2-3 business days to process the refund. However, it could take longer. Please allow up to 7 business days for your financial institution to reflect the refund on your statement prior to contacting us. For more information, we recommend contacting your credit card provider or PayPal.
FINAL SALE MERCHANDISE/HAIR EXTENSIONS!
No exchanges or returns on final sale include custom orders are also FINAL sale.
RESTOCKING FEES FOR RETURN ITEMS
A 10% restocking fee will be applied to RETURN MERCHANDISE.
NO RETURN/REFUND ON INCORRECT HAIR INSTALLATION/HAIR CARE
Golden Lush Extensions is not responsible for the way in which you use any product you purchase from us. We do not accept responsibility if any hair is installed or cared for incorrectly. These include damage due to color treatments, cutting, improperly installed, any other purpose or if any products damage your hair.
Golden Lush Extensions is not responsible for the costs or methods you choose to install and care for your new products. Types of extensions should be full instruct from your stylists, license instruct in your profession, and recommendation shall base on your quality of life, hair texture, and what is the most suitable for you.
Should you have any other questions, feel free to e-mail us at [email protected]
. We're here to help!